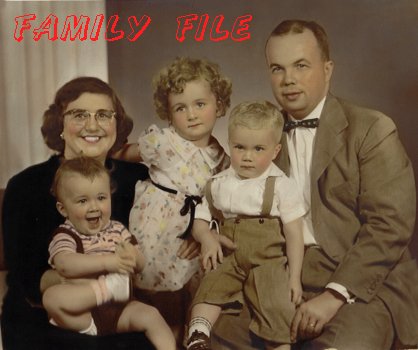 (Pictured above: Mom, Dad, Dan, Barbara, and Mike. Taken September 1955)
The following is a list of photo pages of my family.
Each page contains pictures pertaining to the topic selected.

Evelyn - My Mom
Harold - My Dad
Barbara - My Sister
Mike - My Brother
Dan - My Brother
David - My Brother
Helen & Abe- My Aunt & Uncle
Jonathan - My Nephew
Vicki & Terri - My Cousins
Oscar, Felix, and Murray - My Cats

A lot of the pictures on the above pages were taken in my home town
of Richmond, Indiana. Click here to goto my Richmond page.



101 minute video of my family and childhood growing up in Richmond, Indiana.



Custom Search
TIM'S HOME PAGE SITE INDEX
Areas
Description
# of Pages
About Me
Current Picture of me and my home.
Information about myself.
2
Biography
Pictorial biography of myself.
Pictures range from birth to adulthood.
4
Local Spotlight
Pictures, Links, and Information for
Indianapolis, Richmond, Plainfield,
and Mooresville, Indiana.
6
Tim's Travels
Pictures, videos and travelogs from
my travels around the world.
200+
Vacation Videos
Over 1100 videos from
my travels around the world.
1

Search:
Enter keywords...