Canadian Greetings,

I didn't send a report yesterday because I didn't do very much because of the weather. I woke up yesterday morning in Charlottetown, Prince Edward Island. I had breakfast at the hotel and then set out for the day. I started by driving through downtown Charlottetown since I had not seen it yet. There were two cruise ships in town so there were a lot of old people walking around town. My cruise is not stopping here which is the reason I came. Below is a picture of City Hall.




I left town after my brief exploration of downtown. It was back across the Confederation Bridge to New Brunswick. They charge the toll for the bridge as you leave the island. I was a little surprised that the toll was $46.00. This must be the world's most expensive toll bridge.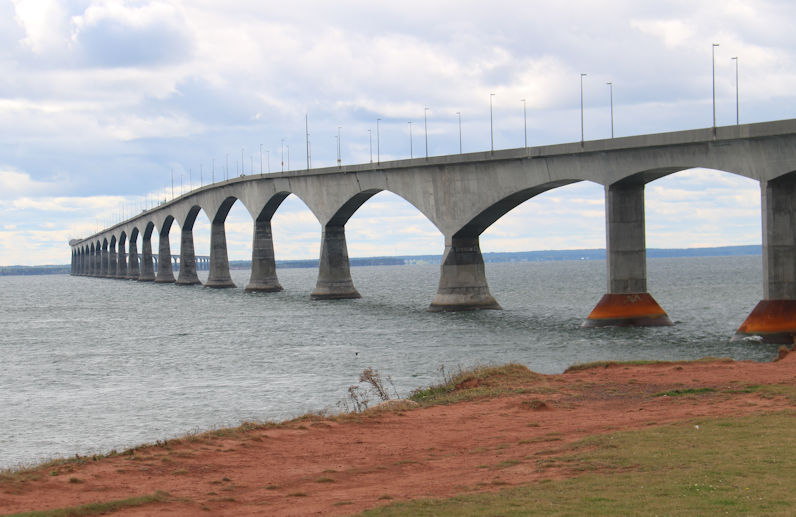 By the time I got to the other side of the bridge it had started to rain and it rained most of the rest of the day. I drove about 200 miles to Fredericton which is where I spent the night. Fredericton is the capital city of the province of New Brunswick. I ventured downtown and took a picture of the legislative building.




Fredericton is situated on the Saint John River. Below is a picture of the River and that is downtown Fredericton on the other side. Notice that beautiful sky.




That concluded Tuesday's activities. Not exactly an exciting day. I am getting a little tired of looking at these gloomy skies.

Today the weather was a little better. Not exactly clear skies but there was some sun and for the first time in many days it did not rain at all. I began my day by driving about 80 miles from Fredericton to Hartland. It was a nice scenic drive. The leaves are really starting to change. Below is a screen grab from the dash cam. I hope you can make out the fall foliage. And equally as beautiful is that blue sky.




The interstate pretty much followed the Saint John River all day. Below is another dash cam screen grab. That's the Saint John River ahead on the right.




I made a small detour off the highway in Hartland and visited the world's longest covered bridge. I got me some lunch at Tim Horton's and took it to a park overlooking the bridge.




Next it was only about a 50 mile drive to my final destination of the day, Grand Falls, New Brunswick. This is a small little town in the northwest corner of the province.




Grand Falls main attraction is the waterfall and gorge located in the center of the town. The picture above is Broadway Boulevard and the gorge is right at the end of the street.




And pictured below is a closer look at the falls.




Tomorrow I finally reach Quebec. This had to be the world's slowest drive to Quebec. It's only 1025 miles from home. You could drive there in less than 24 hours. I will be in Quebec for a total of four nights. The first two nights will be on my own. Then Saturday morning I get rid of my car and join up with the Princess Cruises folks. I'll spend the first night with them at Le Chateau Frontenac. I was too cheap to pay for that on my own, but I got a really good price on the hotel package with Princess. I board my ship on Sunday, but we don't sail away until Monday night so my fourth night in Quebec will be spent on the ship. Then it's a ten night cruise ending in New York City. Maybe I can get Dan and Kevin to wait around another two weeks and they can pick me up at the pier in Brooklyn.

That's it for now,

Tim