Bonjour,

We spent the majority of the day Saturday in Versailles. Here's what it looked like when we arrived.




Oh well, it can't be gorgeous every day. We began by touring the grand palace that King Louis XIV built largely to consolidate his power and create a fully centralized government centered around him.

This room, the Hall of Mirrors, was the crowning achievement of the palace. Nothing else like it existed in all of Europe.




We continued on through part of the massive gardens.




Then we toured the smaller and more intimate Grand Trianon palace used a couple days a week to "get away" from all the pressures of the Grand palace. Life was rough when you were king.




By this time the weather was getting rather ominous, so we headed to the train station for the journey back to Paris.

We apparently stumped you with yesterday's question. The subject of the glass below is a horned Moses who is holding the Ten Commandment tablets. (Note the picture on the lower right is from our 2013 trip to Italy, where Moses is depicted with horns in Michangelo's famous sculpture at Saint Peter in Chains church.)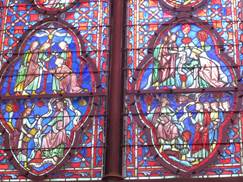 *As the original Hebrew word karan, signifies "to shine out, or dart forth, as horns on the head of an animal, or rays of light reflected from a polished surface", we may suppose that the heavenly glory which filled the soul of this holy man, darted out from his face, in the manner in which light is generally represented. The Latin Vulgate renders it, 'and he did not know that his face was horned;' which version, misunderstood, has induced painters to represent Moses with two very large horns, one proceeding from each temple! Google Moses and horns and you can read some differing opinions of whether the "horns" are a misinterpretation of Vulgate scripture or not.

While touring various places on this trip we've happened upon this sign. We don't recall seeing itback home. Do you know what this is?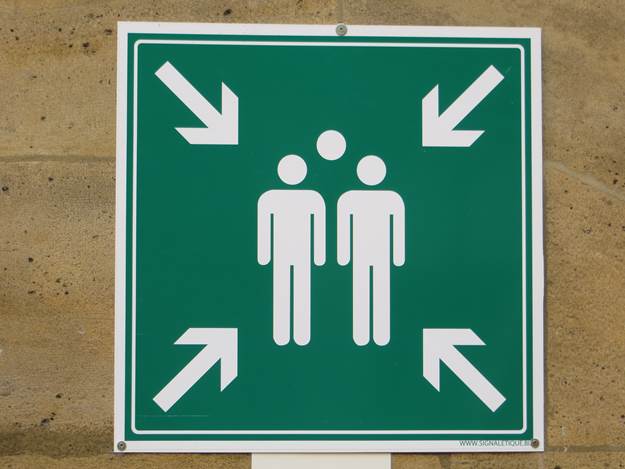 More to come,

Dan & Kevin