Hello Everyone,

Since I last wrote on Tuesday. Tuesday was the second sea day as we made our way to the Falkland Islands. Not much to report on that day. Below is Stanley Harbour just after our arrival this morning.




The Falkland Islands are a group of 740 islands situated 400 miles off the south-eastern tip of South America. This morning at about 7:30am we sailed into Stanley Harbor. Below is a picture of me as I got off the ship this morning.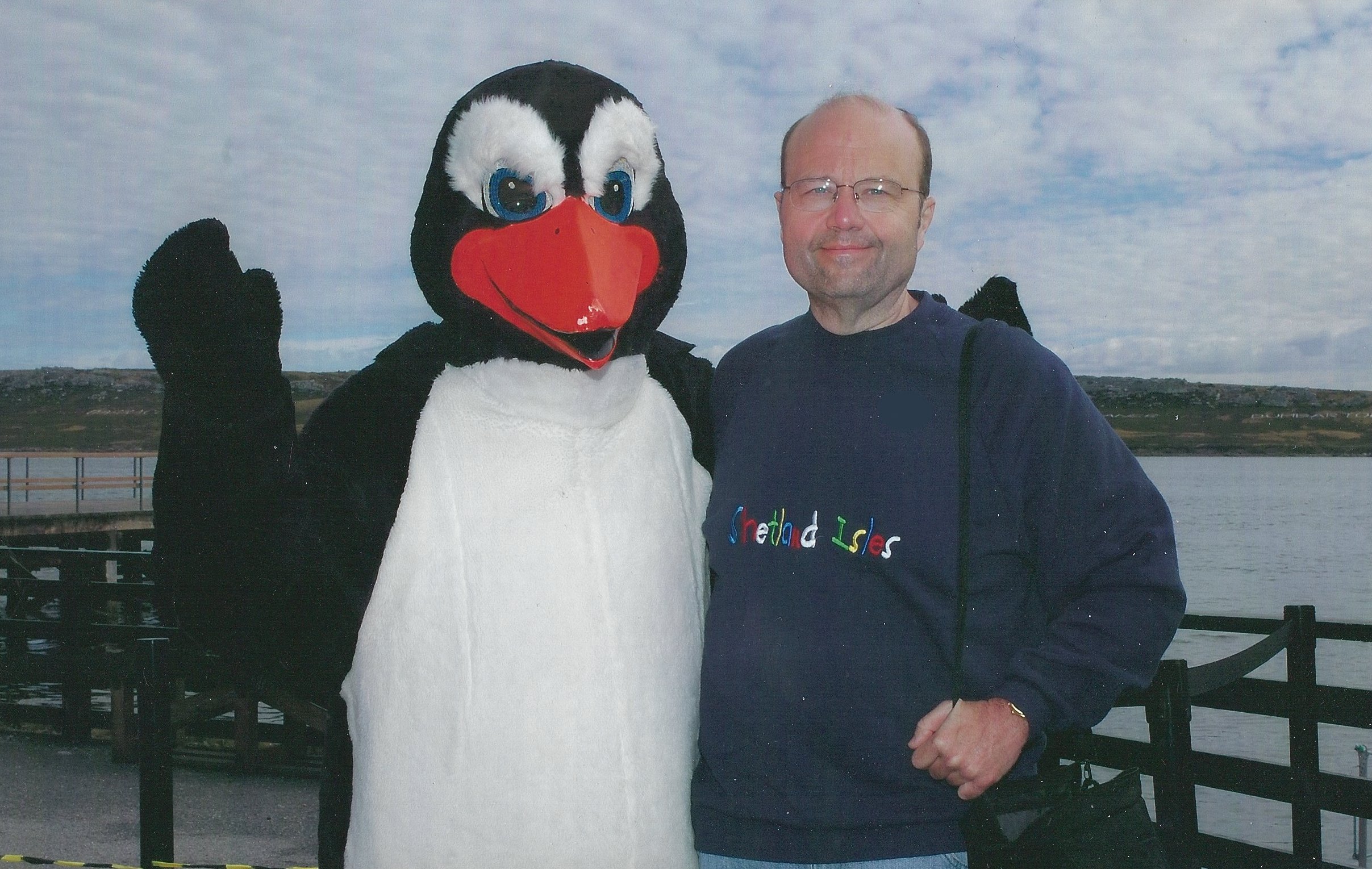 Stanley is the capital and only city of any size at all in the Falkland Islands. And even its population is less than 3000 people. Below is the main street that runs through this thriving metropolis.




Since there were two cruise ships here today, there were more tourists than locals. Below is the Anglican Christ Church Cathedral which makes Stanley a city. Adjacent to the church is the Whalebone Arch, constructed from the jawbones of two blue whales in 1933 to commemorate a century of continuous British administration in the Islands.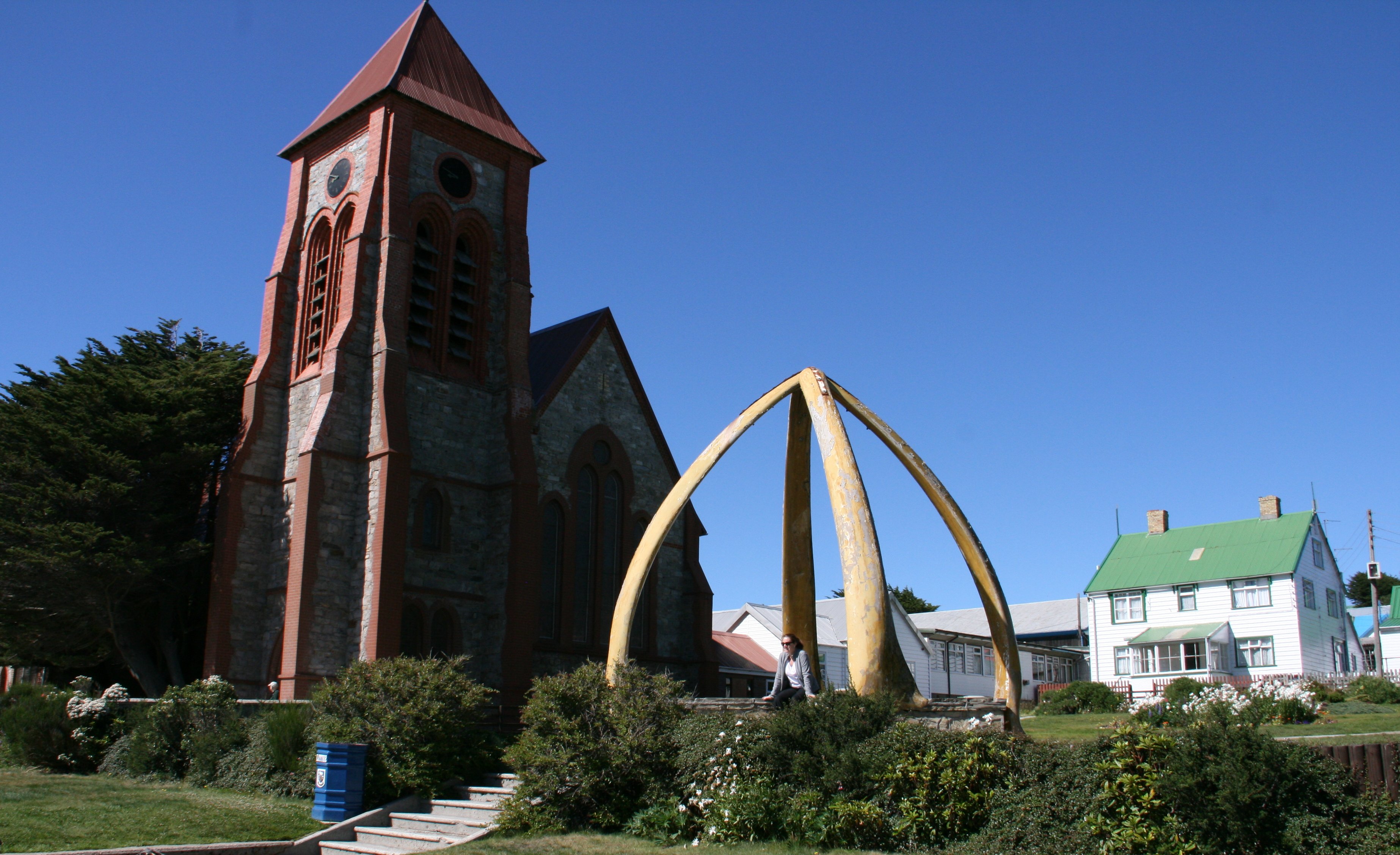 Below is Government House, it has been the home of the Falkland Islands' London-appointed Governors since the mid-19th century. The official residence was built in 1845.




You wouldn't believe how beautiful the day was. Bright and sunny with a high temperature a little over 60, and calm winds, which doesn't happen often down here. The Captain said he had never seen a day this nice down here. Below is the harbour in downtown Stanley.




We are only a little over 500 miles north of the Antarctic Peninsula. We are further south than South Africa or Australia. In fact, if you were to travel due east from here you wouldn't hit land again for over 12,000 miles when you'd hit the southern tip of South America. Below is a picture of British phone booths outside Town Hall which houses the Post Office, Philatelic Bureau and Court & Council Chamber. The St. Mary's Church sits across the street. The church is an attractive example of a Victorian kit building.




I walked all around the small town of Stanley. It is a nice little town with very friendly people. And since this is part of the U.K., they speak English. Hard to believe there was a war going on here in this small peaceful place only 25 years ago. Argentina lost the short bitter war but still claim the islands to be theirs. Pictured below is Victory Green.




Brightly coloured corrugated iron roofs and painted decorative woodwork are features of older houses in the Falklands. Most of these houses are timber framed, built from kits imported to the islands.




Below is Stanley Harbour, it is the busiest waterway of the Falkland Islands and is frequently visited by cruise ships, freighters and navy vessels, although this has lessened since the building of the two airports at RAF Mount Pleasant and Port Stanley Airport. It was formerly, and still is to some extent, a repair yard for vessels damaged in South Atlantic storms, or needing to restock.




Next I went out to Gypsy Cove. A beautiful place.




The scenery was breath taking but the main attraction was the penguins. Hundreds of them. You can't walk out on the beach where the penguins are because there are still land mines out there. The penguins don't weigh enough to set them off, so they are safe. They joke here that these birds are the most protected birds in the world. There are several places here where you can't walk because of land mines left from the war.




Gypsy Cove is a small bay with a crescent of white sand, surrounded by heathland in which Magellanic penguins make their homes.




Gypsy Cove forms part of the Stanley Common & Cape Pembroke peninsula which is a National Nature Reserve.




We sailed away after 6:00pm and our now on our way to Antarctica. It will be six days before we get off the ship again. We are sailing into some of the roughest waters in the world, so anything can happen down here. Weather changes quickly and often. But so far so good. Weather continues to be great as I am writing this Thursday morning. Have not seen any icebergs floating by yet. We get to Antarctica about 9:00am tomorrow morning when we round Elephant Island. There will then be four days of scenic cruising and then we'll round Cape Horn, the most turbulent waters in the world, and come up the other side of South America. Below is a picture of the ship leaving Stanley last night.




Below is sunset last night here in the southern Atlantic Ocean.




Will send more pictures as we progress.

Tim