Hello everyone,

It is vacation time again. On Thursday morning I flew to Toronto and then after a four and a half hour layover there, it was a 12.5 hour flight to Beijing. I flew on an Air Canada 777.




The flight path wasn't exactly what I expected. We flew up over the North Pole and then down over Russia and Mongolia before landing in China. The picture below was taken just before landing here in Beijing.




We landed in Beijing at 4:00 on Friday afternoon. After clearing the Chinese health and custom checks I made my way over to baggage claim. I waited and waited until I was standing there all by myself and they turned off the belt. My bag never showing up. So I report the missing bag to a person that spoke almost no English. By the time I get done with all that it was after 6:00 and I was sure that the person meeting me would have left. Luckily he waited and I was able to join up with my group.

Today, Saturday, we had an 8 hour tour of Beijing. The weather is beautiful here. Sunny, bight blue skies and no smog. To quote our tour guide that only happens once in a blue moon here. Our first stop was Tiananmen Square. You can see the square in the picture below.




Times Square was like a ghost town compared to this place. It was National Day here a couple days ago and the celebration continues here for 8 days. Very hard to take pictures. We continued walking into the Forbidden city next. The picture below is me in front of the Gate of Supreme Harmony in the Forbidden City.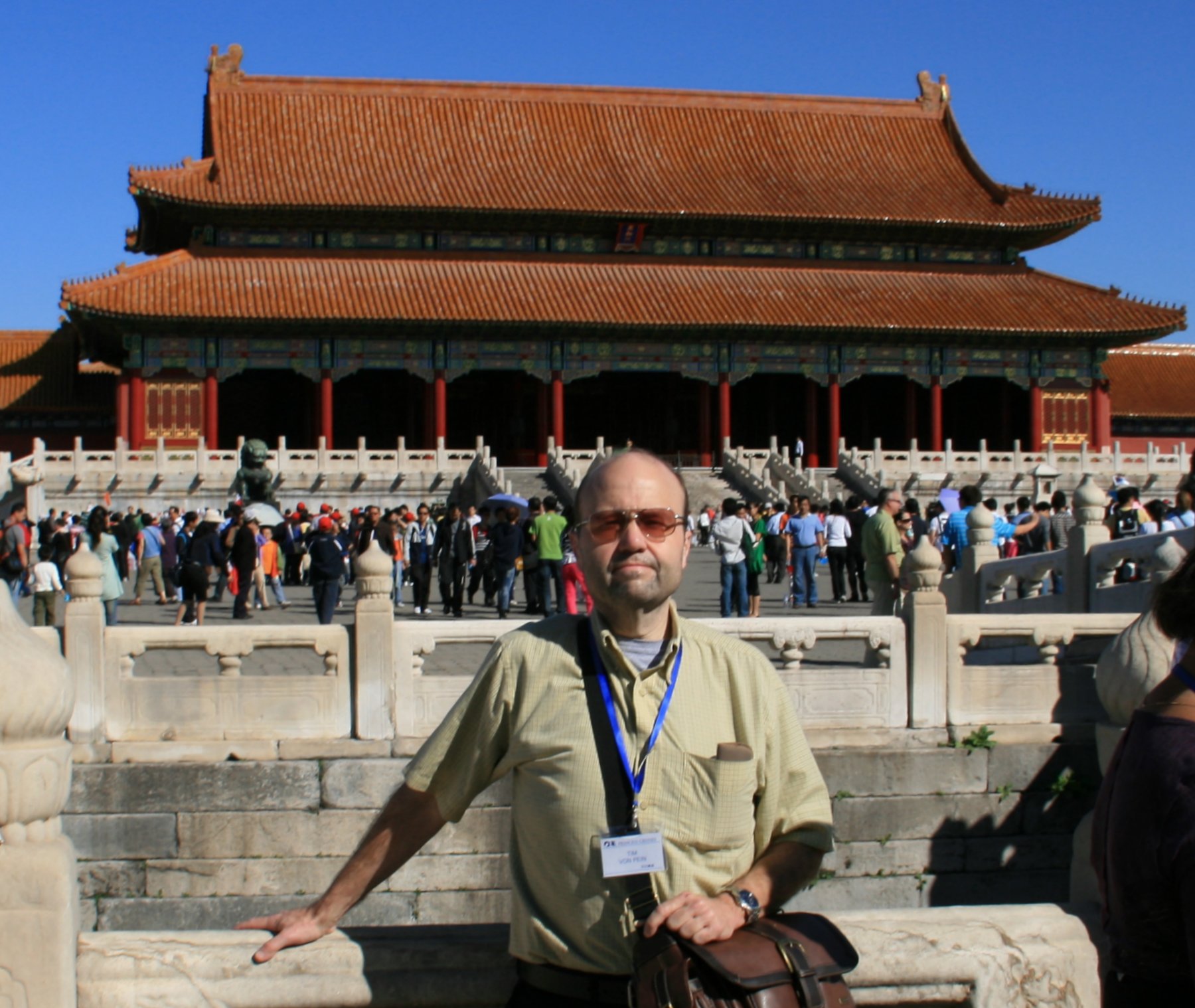 After we finished with the huge Forbidden City complex it was off to lunch. Lunch was very interesting. There were about fifteen different courses. They would bring out a dish and set it on this lazy-susan type thing in the center of the table. You'd spin it around and everyone would take a helping. Half of the things they brought out we had no idea what they were. We took turns being guinea pigs. If the guinea pig didn't choke the rest of us would then try it. I tried most of the items unless they were fish, those I passed on. Some were very good, some not and some we never could figure out what they were.

After lunch we went to the old part of the city to see how the common working man lives. We rode in rickshaws through the streets of these courtyard type houses. We also visited and walked through one of the houses. The houses have running water but they have to use public toilets. I can't imagine getting up in the middle of the night and having to walk down the street to goto the bathroom. And the toilets in China aren't more than a hole in the ground.




It was then back to the hotel for the night. I am staying at the Marriott City Wall hotel. It's a brand new five star hotel in the center of Beijing.

Unfortunately there still was no news on my lost bag when I got back. The tour rep called Air Canada to check on it. They were given my itinerary and have my tour guide's cell phone number are supposed to call when they find it. All my clothes and toiletries are in that bag. I sure hope it turns up soon. The cruise leaves port Monday afternoon, and the first two days are sea days. So I wouldn't get it back until Thursday at the earliest if they don't get it to me here in Beijing.

Visiting the Great Wall tomorrow, will write more then.

Tim